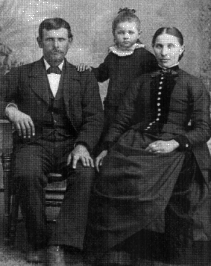 Gustav and Albertina Born



This is my great-grandfather, his wife, and their second child Sophia, shortly after they were reunited in America. Gustav Born had immigrated to Wisconsin in 1878 or 1879 from Germany, where his father was a tailor in the village of Shoenhagen.

Wisconsin was already the home to many of Gustav's relatives and friends from Pomerania, including his older brother Richard Born. An unattributed statement in the Born family geneaology says that 60% of the residents of Wisconsin today are descended from German immigrants from Pomerania. But shortly afterwards Gustav and Richard moved on to North Dakota where both decided to homestead. Homesteading meant that one was given a quarter of land (160 acres) if one lived on it for a year and farmed it. Also, an additional quarter could be obtained after that if one planted trees on it.

Gustav's wife joined him in America in 1881 or 1882. A short note in one source says the brothers were among the sod-house dwellers who settled that part of North Dakota. Apparently they did not have to live in the sod-houses for very long, however, for pictures exist showing each of their growing young families in large wood-frame houses of their own.

(None of the dates can now be determined with precision. In fact, at the time my great-grandmother died in 1925, my great-grandfather himself could not remember exactly when she had immigrated.) This picture was probably taken in 1884, the year before my grandfather Herman Born was, er.., born.

My great-grandparents spent more thirty-five years on their farm in the fertile Red River Valley of northeastern North Dakota, bearing eleven children in all. Sadly, Sophia did not live more than five or six years after this picture was taken. She died sometime before 1890, but all of their other children lived well into adulthood and bore them many grandchildren. Though I never met her, their youngest daughter Olga lived until 1991 in Minneapolis.