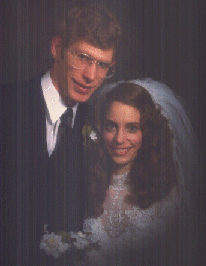 Steve and Karla Born



I was born in 1955 in Portage, Wisconsin, where my parents lived for two years. I met Karla in 1980 in Seattle, Washington, where I had moved two years previously to attend the University of Washington. She had also moved to Seattle from the midwest (Iowa) and is also of German descent, as it happens. In fact, her father was born in Germany and had not come to America until he was nine years old.

Karla and I were married in 1982. After working several different jobs in the Seattle area, then going back to the UW to get a degree in Computer Engineering (I had been working on a degree in History when I attended the UW before), I have now been a software developer since 1993.

This picture was not actually a wedding portrait, by the way, but was taken a year afterwards. We had had no formal portraits taken at the time of our wedding, so the next summer we decided to rectify the situation and got all dressed up in our wedding clothes for a portrait at a studio in Southcenter Mall.

For our 2001 summer vacation we took a road trip across the northern Great Plains to visit my North Dakota relatives. I had not been back there since 1978, when I had last gone there with my parents on their annual summer vacation. It was at that time I got the idea for doing a Web site dedicated to my North Dakota roots.

Below is a picture taken in 2002 with our daughter Juliana, our only child, who was born in 1986.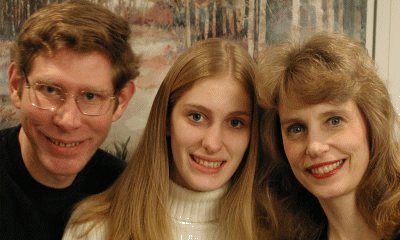 I am grateful to my relative Jim Puppe (I wonder if he's heard as many puns about his last name as I have about mine) of Fargo, North Dakota for much of the information about my genealogy and for several of the old photos here. In 1998 he published a comprehensive genealogy of the Born family that he had researched and compiled. He is a grandson of Gustav Born's younger sister, Emma, who with her parents Ferdinand and Minna Born and several other brothers and sisters immigrated in 1881, a few years after Gustav.